Our sweet friends Karl, Amber, and Hudson had us over Saturday for steaks and toddler time. We had not seen the boys together since Hudson's birthday in January. WOW! That is what tax busy season does to you. The boys swam, Karl cooked up so much DELICIOUS food, the parents had time to talk, and the boys had a blast!
I love the Friedeck family dynamic. Hudson has so much energy and a mommy and daddy who keep up with him. Noah was so excited and jumped right in the midst of it. This play date was different than ones in the past-Hudson and Noah played together. They danced, chased each other, "shared" toys, swapped drinks, fed each other food, and Hudson pushed Noah on the toy train- really, there was so much activity going on. One of the sweetest things was Hudson and his love for holding hands. He kept wanting to hold Noah's hand- heart melting? Why yes!
The best story of the night was when Karl, Amber, Matt, and I were sitting down eating. We let the boys just run around. All of a sudden Hudson comes over to us and is making all this noise and pointing up. He was telling on Noah! Noah had climbed up the stairs and was playing in the game room, which Hudson knew was off limits unless adults were up there. SO CUTE! We got the best laugh out of it. Noah thought that there was no problem being up there playing with all of Hudson's toys by himself. You put Noah in a room with new toys and he will entertain himself for hours. Here are some pictures from the night!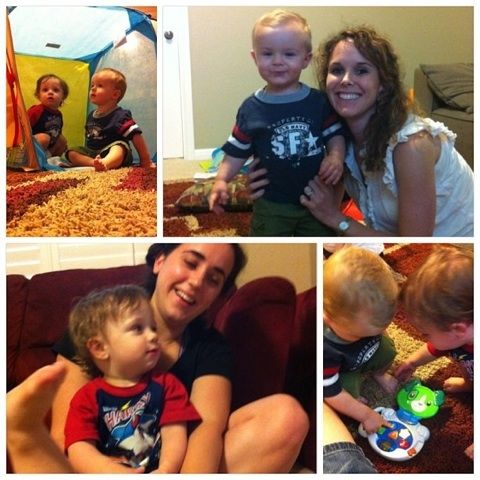 My relationship with Amber has been such a blessing. It is so fun to have another mama to relate to and swap stories with. She is full of wisdom and always so positive. We will miss them when we head to Dallas, but luckily, with us both having family in the opposite cities- I think we will always keep in touch!