Smiles weren't happening today....
Weight/Length- At three months, Deacon Matthew is 24.25 inches and 13 pounds 9 ounces
Eating- Deacon eats every 3 hours. He is still on mommy's milk. Our plan is not to introduce solids until 6 months. He is spot on with growing, so we are in no rush.
Bedtime/Awake- He can go 8-10 hour spans at night. We have seen a couple 11-12 hours, but nothing was really consistent. He takes around 3-4 naps a day. The first naps are usually around 45 minutes to an hour. The last nap usually lasts around 3 hours.
Clothes- Deacon is in 0-3 months and 3 months.
Dislikes- Deacon does not like tummy time. If you catch him on the right night, he isn't a happy camper around 6-7:30. A lot of that has to do with overstimulation or being pestered by big brother.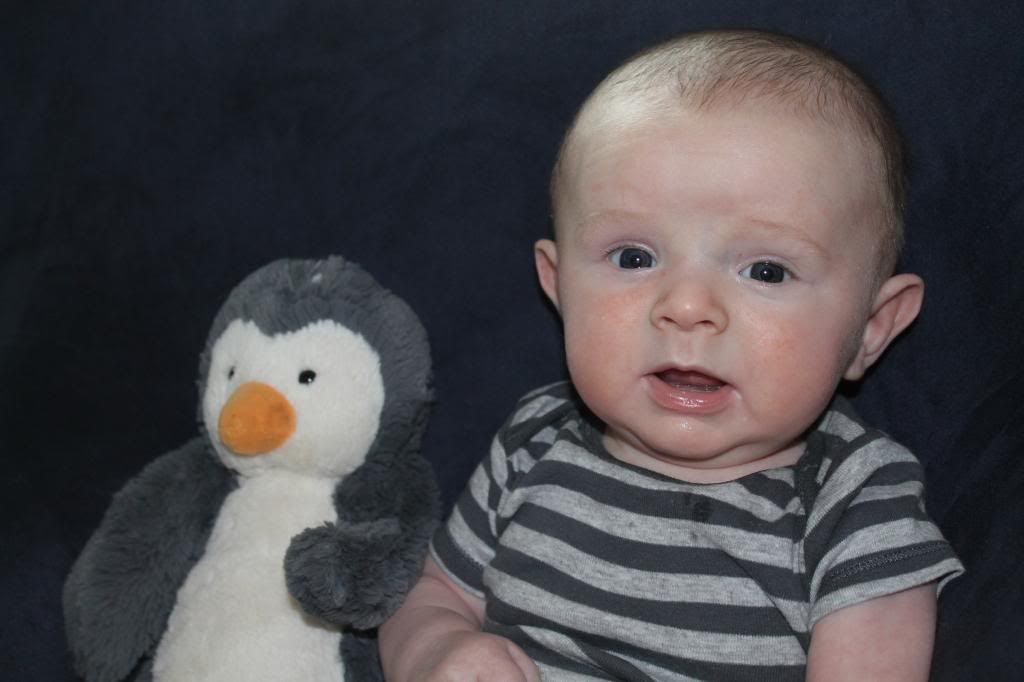 Likes- Deacon loves his daddy and big brother. The smiles and sounds that come from this little boy melt my heart when he is around both of them. He loves the Bumbo and has found his hands. They are constantly in his mouth or he stares them down with a googly cross eyed look. It's the cutest. We have found that Deacon loves to be in the midst of chaos and noise. It is a good thing because big brother is constantly loving on him or causing commotion. His favorite way to be carried is in the baby bjorn facing forwards. Deacon is a great car and stroller baby.
Favorite memories of the month- We experienced Deacon's first giggle and have started to see the personality come out. He is so chatty and noisy. He reminds us a lot of big brother, but he also has his own special demeanor. Deacon is a cuddle monkey. Often if we are out, he will fall asleep in my arms. I don't mind- since back at work- I have stopped taking these moments for granted and enjoy the naps where I am glued to a chair or my arms are going numb from holding him so long. Although my back hates me later, I know I will miss it. If I had a theme song for this time around it is Trace Atkins "Your Gonna Miss This." I sing it to myself all the time.
As a mom of two boys, I have found that there is nothing greater than the bond of the two Clem brothers. Noah loves in the mornings if I will let Deacon lay by him in his big boy bed. Deacon just coos and smiles. Noah gives lots of fist bumps and kisses. I can't wait for the slumber parties to come with these two boys and the Baker brothers.
The amazing thing about these two boys is they actually look pretty identical. There are slight differences, but the facial expressions and facial features are pretty spot on. We have people stop us randomly to tell us this. I have loved the three month stage and try to soak in every moment. This little boy has all of our hearts.
Really Mom? Get Noah out of my chair!