I was going to do just one post of December highlights, but then I love pictures and had a hard time narrowing down all the fun exciting things that have happened and are going on (some which include surviving "icemaggedon", special visits from family, potty training, sleeping in a big boy bed full time, and rolling over from tummy to back-(I'll let y'all guess who is doing what).
We had the crazy experience losing our electricity for 4.5 days at the beginning of December. At this point Deacon was only six weeks old and there was no way we could just stick it out at home. We spent the first afternoon at the Baker's while Matt took his online final. The rest of the time we spent with Bethany and Kyle at their house which is about a mile away from ours. It was hit or miss who lost electricity. We were so thankful for them and that the Lord provided such good friends who didn't mind us invading their house for so long. The first couple pictures are from that "remember when experience".
Noah was Bethany's helper with the Christmas tree ornaments- wearing the beads that were supposed to be on the tree.
Eating Spaghetti at their house- The Phillip's have an awesome camera hence the awesome pictures Kyle took
Bethany came home one night with a craft project for Noah. Snowmen made from powder sugar doughnuts- he loved it!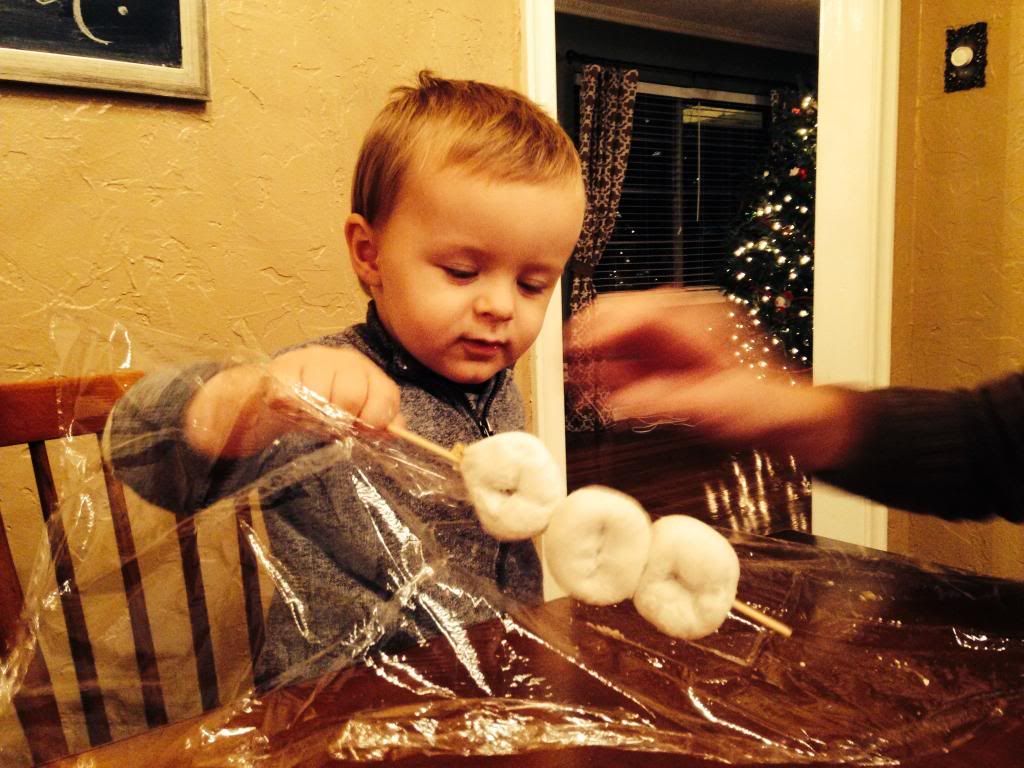 Trying to get a bite
As you can bet, Noah was sad to their leave home and all of the attention.
Luckily, a couple weeks later Pops and Mimi came to visit from Virginia. It was so nice to see them. We hadn't seen them in almost a year. Noah loved all the attention and thought they were so much fun.. Matt and his dad did all these amazing house projects while Tari and I kept the boys entertained. Tari and I also decorated for Christmas which I had intended to do the weekend of the ice storm. We felt so spoiled with love and wish Virginia and Texas weren't so far apart. Here are some pictures from their fun visit!
Pops Carried Noah all the way to the park like this
Pops and Deacon
Mimi and Pops with two of the grandboys